Keeping Childhood Cancer Survivors Safe in the Sun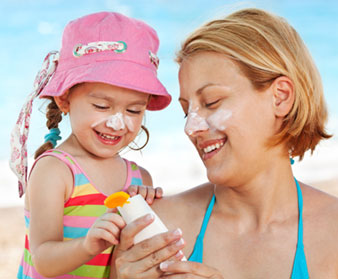 For childhood cancer survivors, eating right, exercising and taking good care of yourself all around are of the utmost importance. Now more than ever, cancer survivors of all ages must also remember to be extra cautious in the sun. "All the things that help anybody stay healthy are even more important for cancer survivors," said Nancy Keene, a parent of a survivor of childhood leukemia, and author of related books including "Childhood Cancer Survivors: A Practical Guide to Your Future."
Everyone should enjoy a little sunshine, but melanoma is the most common form of cancer in Americans aged 25-29. Patients who underwent radiation treatment are already at a higher risk for skin cancer, meaning they have to be super diligent. Some degree of sunburn is common, but excessive sun exposure can cause serious health problems, especially for survivors.
"There are a lot of survivors in trouble out there, and they don't know it. If they get follow-up care from an expert, then they minimize the chances of having problems," Keene emphasized.
When outdoors this season, The National Children's Cancer Society (NCCS) recommends the following preventative measures to limit sun exposure:
1. Use a minimum of SPF 15. Apply 15-20 minutes before sun exposure. Broad-spectrum SPF 15 will block out 93 percent of UVA and UVB rays, which are the more dangerous burning rays.
2. Apply sunscreen every two hours. Apply a thick layer, and reapply after swimming.
3. Check the date on the package. Sunscreen has a shelf life of two years.
4. Limit your time in the sun. Avoid peak hours of damaging rays between late morning and early afternoon.
5. Shade yourself in peak hours. Wear a hat with a wide brim or carry an umbrella to create extra shade.
6. Wear sunglasses. Protect your eyes from exposure to UV light.
7. Avoid reflective surfaces. Water, sand and concrete can increase your risk of burning rays.
8. Don't use indoor tanning beds. They contain the same dangerous UV rays as natural sun exposure.
To find more information about helping survivors cope with late effects or life after cancer treatment, visit www.thenccs.org and www.beyondthecure.org.
----------------------------------------------------------------------------------------------------------------------------------------------------------------------------------
Alerta sanitaria: Lo que debes saber acerca de los piojos de la cabeza
El 1 de octubre comienza una forma totalmente nueva para obtener seguro médico para usted, su familia, y su negocio conocida como "El Mercado de Seguros Médicos;" esto gracias a la nueva ley del cuidado de la salud. Si no está asegurado y desea obtener cobertura para usted, el Mercado le ayudará a encontrar fácilmente un seguro adecuado que se ajuste a sus necesidades y presupuesto.
Por primera vez en un sólo sitio, usted podrá aprender sobre seguros de salud, obtener información correcta sobre distintos planes y comparar seguros de planes privados. Recibirá información sobre beneficios, calidad y costos de los planes para que pueda tomar la mejor decisión para su cobertura.
No importa donde viva, usted podrá comprar un seguro de calidad de los planes privados autorizados que cubren beneficios como visitas médicas, servicios preventivos, visitas al hospital y medicamentos recetados.
En el Mercado podrá averiguar, con una sola solicitud, si un miembro de su familia o usted califica para Medicaid, el Programa de Seguro Médico para Niños o un nuevo tipo de crédito que podrá usar de inmediato para reducir sus primas mensuales. La nueva ley también prohibe la discriminación por condiciones preexistentes y nadie será rechazado por su estado de salud. El Mercado garantiza que todos los Americanos tengan alternativas de seguro médico de calidad a precio razonable, aunque pierdan o cambien de trabajo, se muden o se enfermen.
Comenzando en octubre, habrá varias maneras de obtener ayuda incluyendo un número de teléfono gratuito, en línea y acceso a "los navegantes." Estas personas son ayudantes locales para contestar todas sus preguntas sobre cobertura e inscripción y le ayudarán a escoger el plan que mejor se ajuste a su estilo de vida.
La inscripción empieza en octubre 2013 y la cobertura comienza en enero 2014. Regístrese hoy en cuidadodesalud.gov y averigüe cómo el Mercado funcionará, cuáles serán los beneficios y las fechas importantes. También puede registrarse para recibir correos electrónicos o mensajes de texto para que se mantenga informado. Continúe visitando cuidadodesalud.gov para más información sobre el Mercado de Seguros Médicos, para recibir alertas en preparación a la inscripción y para que empiece a tomar el control de su salud. Para más información, visite www.cuidadodesalud.gov.
Helping Children Understand Alzheimer's Disease
During the summer, children are more likely to spend time visiting their grandparents. If they don't see their grandparents often, they may find the changes in grandma or grandpa to be upsetting or frightening.
Little ones may shy away or cry. Older children may become angry or withdrawn. This can be very upsetting to both the child and to the person with memory loss.
Reading a story about Alzheimer's disease to a young child is often a good way to explain what is happening to the person they love; while older children and teens usually need a bit more help.
The Alzheimer's Care Resource Center offers a teen support group, an online, supervised chat room and a variety of age appropriate books to help parents and children understand Alzheimer's disease while learning ways in which they can continue to enjoy a strong, loving relationship with their grandparent.
Our Coaching for Kids™ program also provides one-on-one education, counseling, guidance and support.
For more information you can visit www.AlzheimersCareResourceCenter.org or call us at (855) 476-7600 or 561-588-4545. We look forward to serving you!